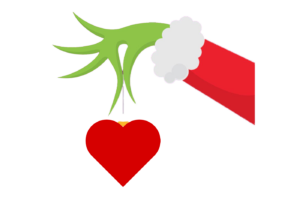 Give Victoria Youth the Gift of Holiday Joy
The Grinch went through a lot of trouble before
finding the real meaning of the holiday season.
Fortunately, you won't need to turn your dog into a
reindeer or squeeze down a chimney, because The
Lighthouse is here to point you towards the true
source of Christmas joy: Your heart.
Here in Victoria, there are young people who, for a wide
variety of reasons, are unable to go home and spend
time with their families. For many, it's a very difficult time of year.
The Lighthouse – a youth supportive housing site for 15-20 young
people who would otherwise be living on the street – is celebrating
its first holiday season, and we want to make it special and memorable
for each resident. Our vision this year is a classic holiday experience for our residents with good food, gifts, and quality time with staff.
We're asking our community to help us reach our goal of supplying each youth with a Christmas stocking, a holiday dinner, and a gift (approximate value $100 per youth). We will accept items or monetary donations and will purchase stocking stuffers, food supplies or the gift items each youth has expressed interest in receiving. Please make your monetary donation out to Lighthouse Christmas Fund. We are also asking for donations of unwanted or unneeded coats, mittens, gloves, socks, and winter gear.
We extend a heartfelt thank you to any donors of cash, gifts, activities, or food to us this holiday season. Your generosity provides a sense of self-worth, belonging, and excitement for our youth and helps ensure that everyone can the happy holiday season they deserve.
If you are interested in donating items but unsure of what to provide, we have a list of suggestions below. Donations can be dropped off at 516 Yates Street. For more information call 250-508-9326.

The Greater Victoria Youth Task Force to End Homelessness 
The Greater Victoria Youth Task Force to End Homelessness was struck in the Fall of 2017. This Task Force was expanded in the Winter of 2018. On May 17th, 50 participants including not for profit youth service providers, government, funders and 15 youth with lived experience participated in a Capacity Mapping Day to identify the current local issues, current services, and priorities for action.
The Next Steps of the Youth Task Force members are Solution Development and Implementation. The collaboration of community agencies, government and funders working together is one key part of the work to prevent and end youth homelessness.
If you are a youth service worker or individual seeking further information on the identification of youth homelessness in your community please refer to the Youth at Risk page
In Crisis?:
If you require urgent emotional support, including having thoughts of suicide and other mental health issues, please call Vancouver Island Crisis Line: 1-888-494-3888.
Youth (under 25 years of age) may access youthspace.ca for online emotional support.
For other resources, including shelter availability, visit bc211.ca