An Introduction to the Lab
The Greater Victoria Coalition to End Homelessness (GVCEH) and the Aboriginal Coalition to End Homelessness are inviting others to join them in an 18 month 'housing solutions lab'. Together we will focus on honouring and centring the voices of women+ with lived experiences of homelessness and violence in order to listen, learn, co-develop and implement new solutions that address health, well-being and housing challenges for this population. SHIFT Collaborative is supporting the lab process.
A Solutions Lab, or "Social Innovation Lab" as they are often called, is a unique approach to addressing complex and deeply rooted social challenges (such as racism, stigma, or affordable housing) by creating a safe space for diverse stakeholders from different sectors, communities and perspectives to experiment and learn together. Lab participants and partners work together to co-develop and test new solutions or approaches that can help address and transform the conditions that are giving rise to the problem at hand.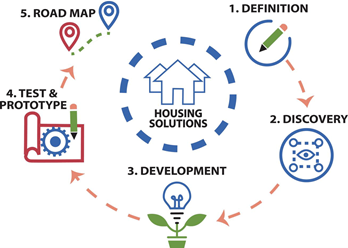 Phases of a Solutions Lab
Definition: Establish scope, frame the challenge, and identify what we are seeking to learn. In this phase we engage the community in proving guidance, and direction. We also set up agreements, protocols, roles, learning structures, and overall lab design.

Discovery: Gather data and generate insights to guide the direction of the project. In this phase we seek to understand the issued based on a range of perspectives and participatory research methodologies.

Development: Explore concepts and co-develop potential solutions. These solutions may take the form of practices, policies, technologies, or processes. In this phase we identify which concepts have the greatest potential for future prototyping and testing.

Test and Prototype: Explore potential solutions through Rapid Prototyping and prototype refinement. This process is highly iterative and we refine prototypes based on feedback.

Road Map: Harvest insights and key learning, create implementation strategies, and identify opportunities for scaling.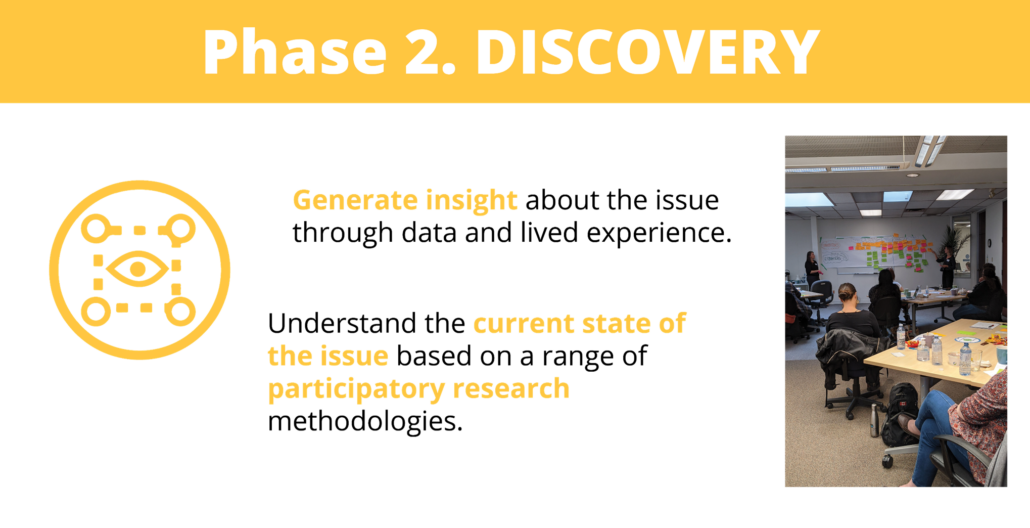 Phase 2 activities consisted of:
Finalizing learning questions, methods and strategies for the Discovery Phase Engagement and Recruitment Strategy (see Appendix B.)
Convening two Leadership Team meetings (Nov 26 + upcoming meeting in mid-April)
Planning and facilitating 'sensing the system' activities with diverse community partners to better understand the key influences on the challenge and opportunities for innovation (engaged 31 representatives from the community)
Recruiting and orienting the Peer Research Team: 6 women+ with lived experience who will design and facilitate engagement with diverse populations of women+ in the Greater Victoria region.
Creating a learning agenda and developmental evaluation framework for the project (see Appendix C)
Collective sense-making and theming from discovery phase research, engagement and data collection.
Development of a draft systems map
Bi-weekly Backbone team meetings
Future Phases of the Lab will include transitioning into the discovery phase. Key activities in
development are:
Convening the Leadership Team for 'sense-making' workshop to support analysis and provide feedback on the draft systems map developed in the discovery phase;
Launching a project website (April 2021) and communications materials;
Peer researcher Outreach and engagement to people with lived experience;
Designing and hosting a community-wide workshop to identify and explore key leverage points to focus on in the Prototype Phase.
This Lab is focused on honouring and centering the voices of women+ with lived experiences of homelessness and violence in order to listen, learn, co-develop and implement new solutions that address interconnected health, well-being and housing challenges for this population. Through the lab approach we will focus on:
Solutions labs focus on:
Engaging diverse perspectives and roles, especially those who are most impacted by the issue (i.e. community members with lived experience), and other types of knowledge holders.
Co-creation, not consultation: Solutions need to be owned to be accepted by everyone who will play a part in their implementation, which demands co-creation with everyone involved.
Generating ideas, processes, actions and projects that can address root causes (not just symptoms).
Learning by doing—testing out solutions, observing what happens, learning and adapting.
Using participatory and creative "hands-on" methods and engagement.
Building capacity of those involved to increase trust, deepen relationships, and take action together
Thank you to our funder, CMHC!
This project entitled Surfacing Our Strengths: Co-creating Strategic Solutions with Women+ At Risk of Violence and Homelessness received funding from the National Housing Strategy under the NHS Solutions Labs.
In Crisis?:
If you require urgent emotional support, including having thoughts of suicide and other mental health issues, please call Vancouver Island Crisis Line: 1-888-494-3888.
Youth (under 25 years of age) may access youthspace.ca for online emotional support.
For other resources, including shelter availability, visit bc211.ca